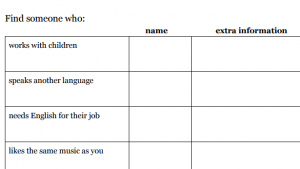 Find someone who is a great mingling activity which gets students on their feet and forces them to interact one-on-one with their classmates. I often do one of these on the first day with a new class as they can serve as a great ice-breaker activity. See below for printable examples and templates.
How to run a find someone who activity
First, give each student a copy of the question sheet and emphasise that they should not write on the worksheet until the activity has started.
Now, running through each row at a time, elicit from the students the question that they will need to ask in order to find someone whose name they can write in the name column.
Brainstorm examples of follow up questions which they can ask to find out a little more for the extra information column. I usually leave a couple of blank rows at the bottom of the question sheet and ask the class to come up with their own ideas for the last two items.
The students should now get up and mingle with their classmates and try to find one person whose details they can write in the appropriate row. Be sure to model the activity because there's plenty of room for students to misinterpret the instructions.
To discourage the students from only talking to their immediate neighbours, I usually tell them that they can only have the same person twice. But this depends on the group size.
Feel free to join in the activity yourself, in fact, I find students are often a little bit reluctant to get up and join in, so starting off yourself will encourage them to follow your lead.
When everybody has finished, usually after 15-20 minutes, go through each of the questions and ask students who they have found and any extra information they have discovered.
Printable find someone who PDFs