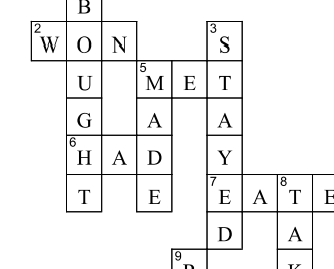 ESL crosswords are a good way to introduce a theme or grammar point, a handy homework exercise, or a vocabulary review task.
A Google search for crossword puzzle maker returns 1,720,000 results, yet having worked my way through a good chunk of those let me tell you it's not as straightforward as you might think. Most of the options I've tried have been either buggy, ineffective or guilty of slapping giant ads onto the page – which just looks ugly and unprofessional in the classroom.
The best tool
Having experimented with a variety of different websites and 'free' software tools, I have settled on PuzzleFast as the simplest  and most convenient crossword maker that produces a reasonably put together puzzle
How to make an ESL crossword
 select the radio button Crossword
in the text box make a colon separated column of words followed by their clues. For example:
ate:eat
dug:dig
hat:something you put on your head
give the crossword a title, and press the make my puzzle button
You will now be taken to a  printable, ad-free page containing your nicely positioned ESL crossword. If you're not satisfied with the result, hit the remake button and the puzzle will be recalculated in a different shape with different clues.
Tips
Sometimes the site doesn't manage to generate a puzzle that uses all the clues, try and include at least one longish word among the answers, this will increase the quality of the puzzle.
Like most of the free options, it's not possible to download the puzzle as a PDF. However, if you download and install the free PDF reader and creator Nitro Reader, which is a much nicer and faster PDF reader than Adobe Reader, then you can easily save the puzzle (and all other web content!) as a PDF. Just follow this procedure:
click the printer icon above the puzzle

select the Change Printer button on the print options menu.
select Nitro PDF Creator
the PDF will be generated and you will be prompted to save it.
Not every student is familiar with the concept of crosswords so make sure to explain it first as well as the meaning of down and across.
Printable crosswords