Improve Your ESL Classes with Engaging Conversation Questions – Printable Cards for Adult Learners
Here you can find hundreds of engaging ESL conversation questions arranged around more than fifty themes, perfect for adult learners. Our questions are formatted as sets of cards for easy group work and interactive discussions.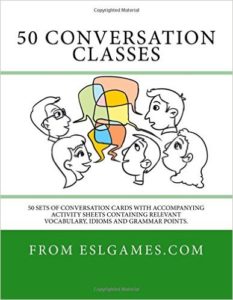 Boost Your Teaching Experience with Our Book: 50 Conversation Classes
If you find these discussion questions valuable for your TEFL class, consider purchasing our book, "50 Conversation Classes," which features 50 topic-based sets of questions and activities. The questions are grouped by theme and are in a convenient copy-and-cut-out format for easy preparation.
Each set of questions comes with a complementary worksheet that introduces vocabulary items and related idioms for students to review before the discussion begins. Keep the book in your bag, and you'll always have a backup plan for engaging and effective conversation activities.
---
Printable ESL Conversation Questions
Grammar discussion questions
Vocabulary discussion questions
Effective Tips for Using ESL Conversation Questions in Your Classroom
Maximize the benefits of ESL conversation questions in your class with these practical tips and ideas.
Shuffle the Cards: Ensure each pile of cards is shuffled to avoid distraction when learners overhear neighbouring groups discussing the same question.
Pace the Activity: Some groups may speed through the activity, while others take their time. Control the pace by giving a cue (buzzer, hand clap, etc.) for when the next card should be turned over. Allocate two to three minutes per question.
Optimal Group Size: A group size of three or four students is ideal, as it allows everyone to share their opinions and increases the likelihood of stimulating conversations.
Teacher Involvement: Avoid getting too involved in the ongoing discussions. Save your observations for a recap activity when students can report their most interesting findings to the class.
Alternative ESL Conversation Question Activities
Explore these alternative ways of using conversation questions in your ESL class:
Mingle and Ask: Instead of giving piles of question cards to groups, give each student one card and have them mingle and ask each other their questions. At the end of the mingling time, each student can summarize what they learned about their classmates.
Share the Results: After the conversation activity, divide students into new groups where they can share the results of their previous discussions.
Don't Forget About Our Essential Resource: "50 Conversation Classes"
Take your ESL teaching to the next level with our book, "50 Conversation Classes." This invaluable resource features 50 topic-based sets of questions and activities, grouped by theme and in a convenient copy-and-cut-out format. Each set is paired with a worksheet to help students review vocabulary and idioms before the discussion begins. Enhance your classroom experience and always be prepared with engaging conversation activities at your fingertips.
Grab your copy of "50 Conversation Classes" today and transform your ESL lessons!
Here's what some Amazon reviews say about the book
Absolute gem…a great, straightforward supplementary book divided into simple, time saving sections according to grammar/lexis. Had my students talking from the start. Usually conversation books have the same bland questions. These questions opened both further debate and laughter. Recommended and a great price too.

I love to use this in my classes so much because I always get such a surprise reaction from my students as they relate to the questions on a personal level and bring into the total discussion such rich experiences.

Really lovely and useful resource. thank you.

I am impressed with having the vocabulary lists to help prepare people for meaningful conversations. I will use this in a camp setting and know that the campers will be happy that the conversations can be targeted to them… It is wonderful to have such a targeted resource!

My TEFL students love this book!! I quite often use it with them, to introduce the next part of the lesson. Thumbs up from me!!

Great book. Full of great topics for encouraging & practising speaking English for teacher & ESOL students.. Has been a tremendous help for me as a TESOL teacher. It encourages good conversations! As a teacher I've learnt a lot too about my students cultures! Very interesting.

An excellent book to jump in the lesson without any prior preparation!

Been very useful for last minute conversation classes.

I bought this to get ideas during conversation lessons and it's great for ideas and to help the teacher come up with different questions to keep the lesson interesting … overall I think it's a great book.

Great range of subjects which can be adapted for conversations at many levels of EFL / ESOL classes. I definitely recommend this book.

A great book to guide conversation classes.
See what others say and pick up your own copy from Amazon (also available as a PDF ebook).