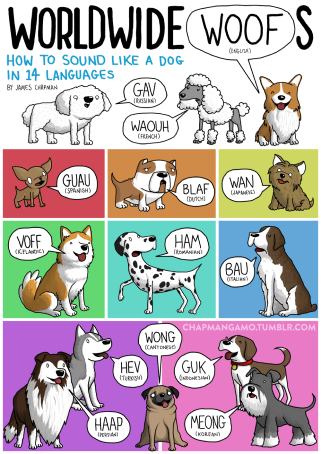 The fun in this animal sounds quiz is not in the quiz itself, but in comparing the similarities and differences in how other languages describe the sounds that animals make.
As well as describing the sounds you can also introduce some of the verbs we use such as bark, pant, bray, etc.
By the way, if you like the picture on the right, this blog has lots of similar language comparison infographics.
See this page for more Guess the Sound games. Including:
Answers and slideshow versions are below.
Sound 1
Sound 2
Sound 3
Sound 4
Sound 5
Sound 6
Sound 7
Sound 8
Sound 9
Sound 10
---
Slideshows
---
Answers
cow
dog
cat
duck
snake
rooster
lion
frog
donkey
mice